BookBook for iPhone
Three stories. One incredible BookBook.
Designed for:

iPhone 6 / 6s

iPhone 6 Plus / 6s Plus

iPhone 7

iPhone 7 Plus

iPhone 8

iPhone 8 Plus
A wallet case, removable shell and display stand, all-in-one

BookBook for iPhone is a beautifully designed wallet case, hands-free stand and removable shell all wrapped up in a vintage leather book. BookBook has pockets to hold your ID, cards and cash. Want to watch a video or FaceTime with family? BookBook folds into a display stand for hands-free usage anywhere. The last chapter of BookBook - a removable shell protects your iPhone in or out of BookBook. Whatever your needs, this feature-packed case has you covered.

Are you looking for a case for the upcoming iPhone X release? We're working on them now, so if you'd like to be notified when they are available, simply sign up here!

What's new with BookBook for iPhone:
• Upgraded card slot and wallet design to prevent stretching and pilling
• Dark interior finish to better resist dirt and dust
• All-new Book spine design to add variety to your library
Chapter 1. A hand-distressed, genuine leather wallet.
BookBook marries a wallet with an iPhone case, combining two of your must-have items into one brilliant leather book. The wallet portion of this high-quality leather case has five pockets (six for Plus), including slots to hold your bank and credit cards. There's a handy window pocket that lets you flash your ID when needed and a full-size pocket for cash, receipts or magnetic security cards. It's the perfect wallet for today's digital world, letting you pay with Apple Pay where available, or the old-fashioned way with cash – still welcome everywhere.
SaveSave
Chapter 2: A luxury wallet case or a thin shell case? How about both.
Inside BookBook, your iPhone snaps into a protective shell. With a quick slide to the left, the shell lifts completely out – so you can leave your wallet in a locker and take your phone to the treadmill. Carry your phone/wallet combo when you need it, or just your shell-covered iPhone when you don't. This slim shell is better suited for dashboard clips or desktop charging stands like HiRise.
The removable shell slides out to better fit tight spots – like car mounts and charging docks. In the wallet or stand-alone shell, your iPhone stays fully protected.

Chapter 3: It also has a built-in hands-free viewing stand.
As iPhones get bigger, a case isn't a case if it doesn't work as a viewing stand. BookBook has one. Use the stand for hands-free FaceTime calls, watching HD movies or sharing your all-time favorite YouTube videos with friends. You can even prop up the BookBook stand and use the self timer to take group photos.


The best BookBook case ever.
BookBook for iPhone has you covered for any situation. Six-sided coverage keeps your iPhone safe and secure. With it's built-in wallet, removable shell and hands-free viewing stand we have all your bases covered.

Whats new with BookBook for iPhone 7:
• Upgraded card slot and wallet design
• Darker interior finish
• All-new Book spine design
Part of the BookBook family.
BookBook for iPhone is another edition in our BookBook library of cases. These gorgeous, genuine leather cases cover iPhone, iPad and MacBooks. Each model is available in different colors and is hand-distressed for a unique look. Like a quality leather wallet, jacket or shoe, BookBook gets better looking and more comfortable with age.
Short story. It's a 3-in-1 iPhone case. That neat little book you see is actually an iPhone case with a built-in wallet, a hands-free viewing stand and a removable shell.
Simplify your life. BookBook for iPhone minimizes your everyday carry by rolling an iPhone case and wallet into one pocket-sized leather book.
Perfect marriage. Here you can see BookBook holds four bank cards (five on the Plus version) and has a window slot so you can quickly flash your ID when requested.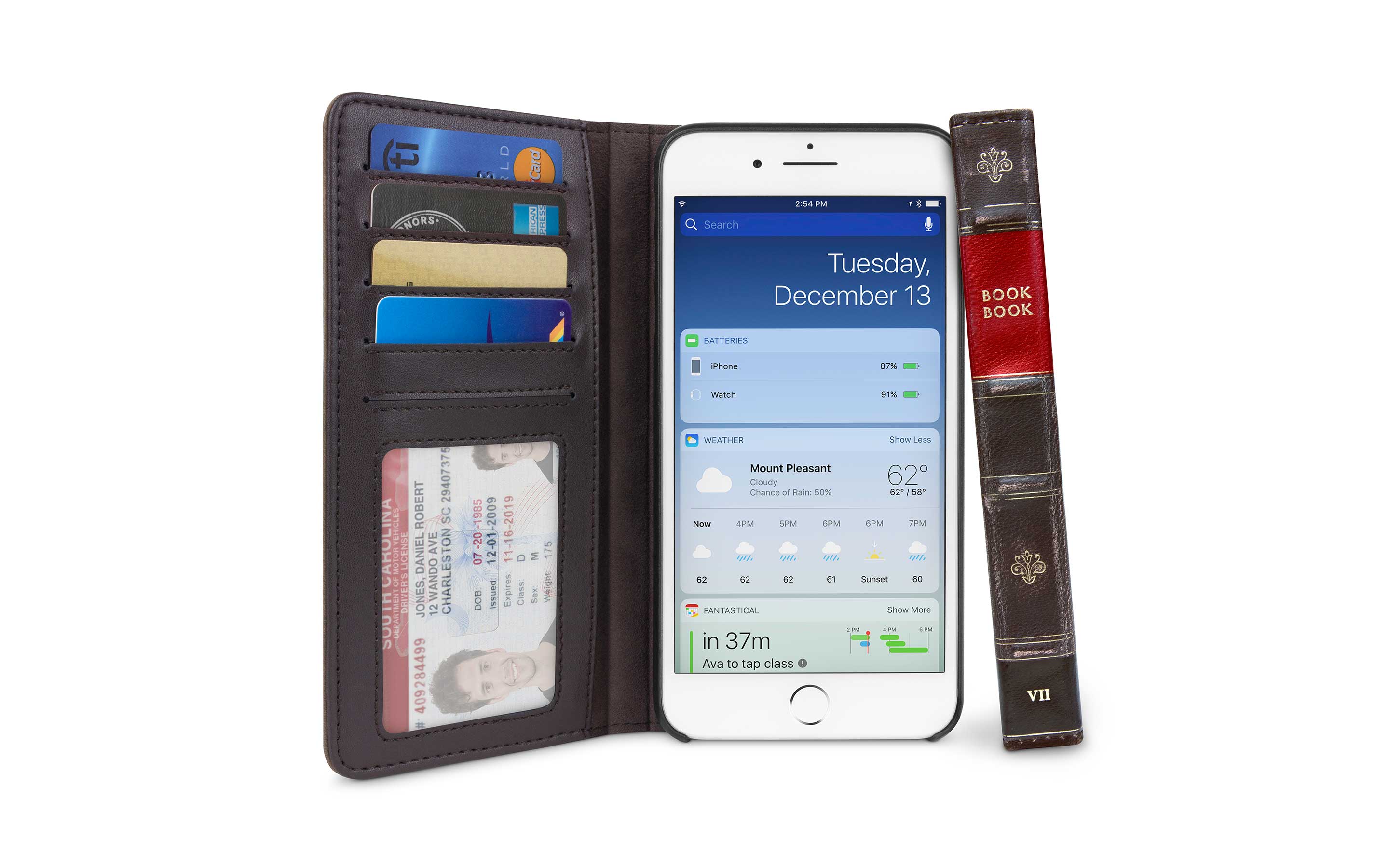 Read your BookBook. Because BookBook is a book, it makes reading iBooks, emails and texts fun.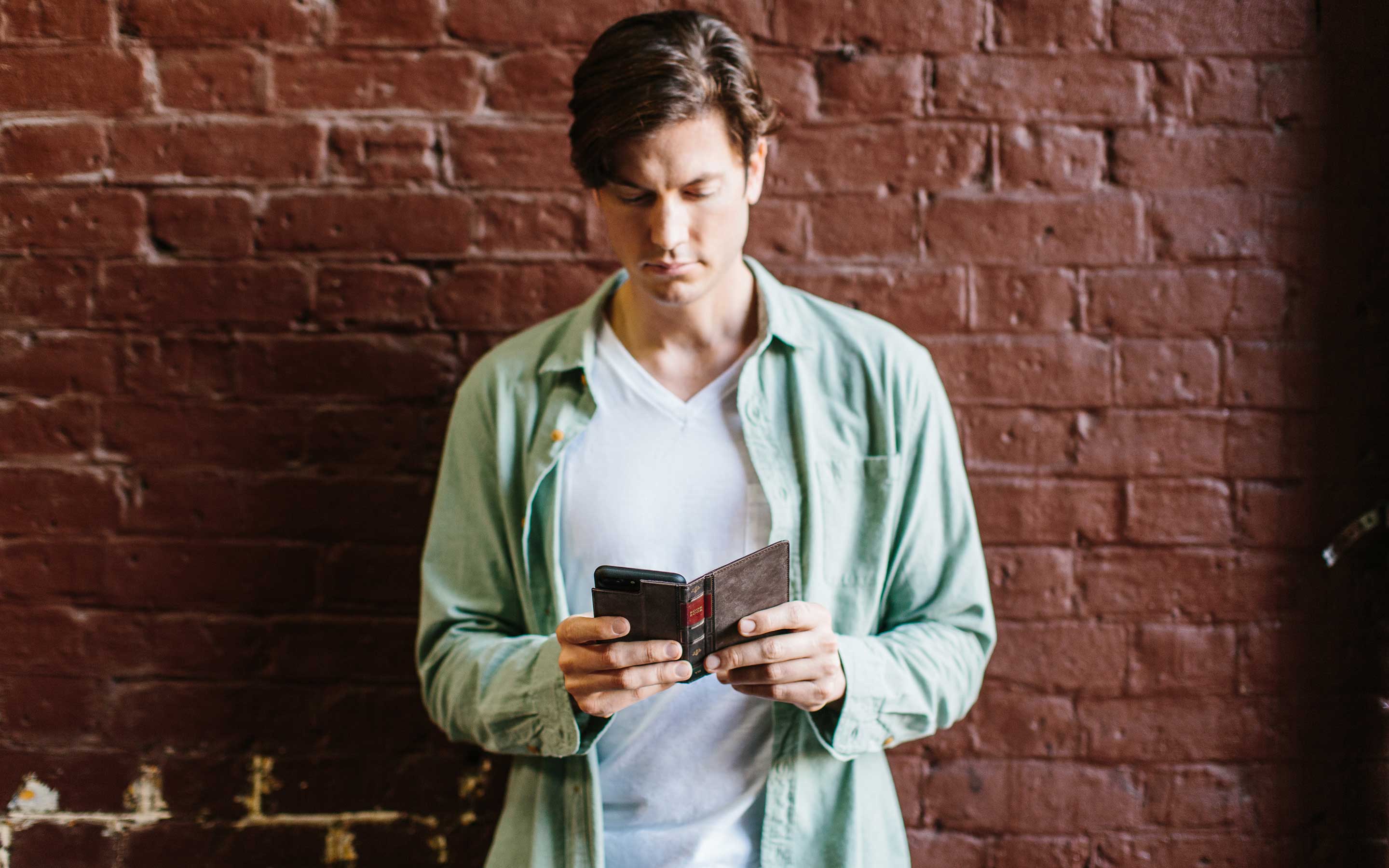 Available in brown or black. Choose from two BookBook colors. Brown with a red accent on the spine or black with a blue accent on the spine.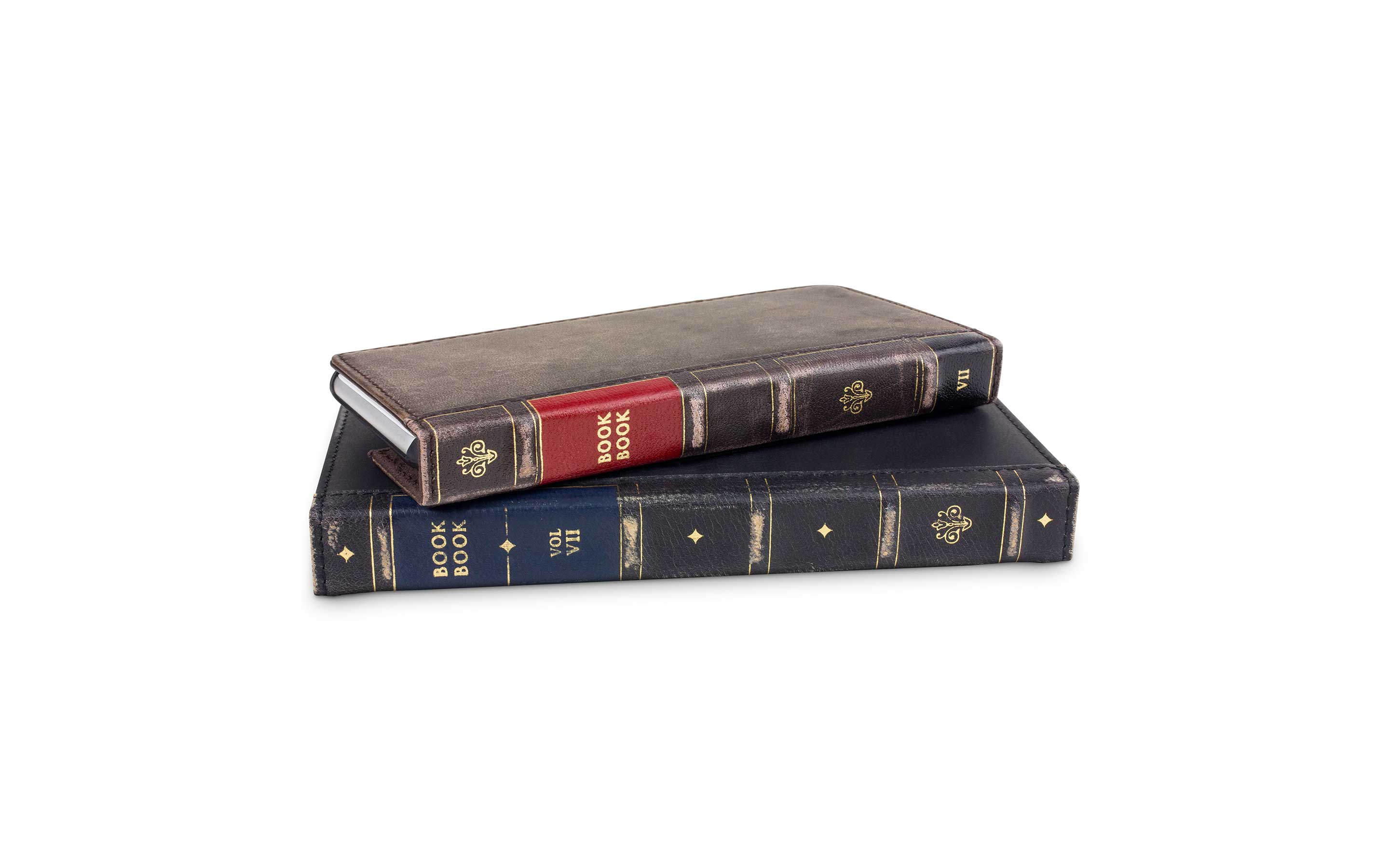 See an iPhone? Along with protecting your iPhone from nicks and scratches, the tough leather BookBook also disguises your iPhone and wallet as a vintage book.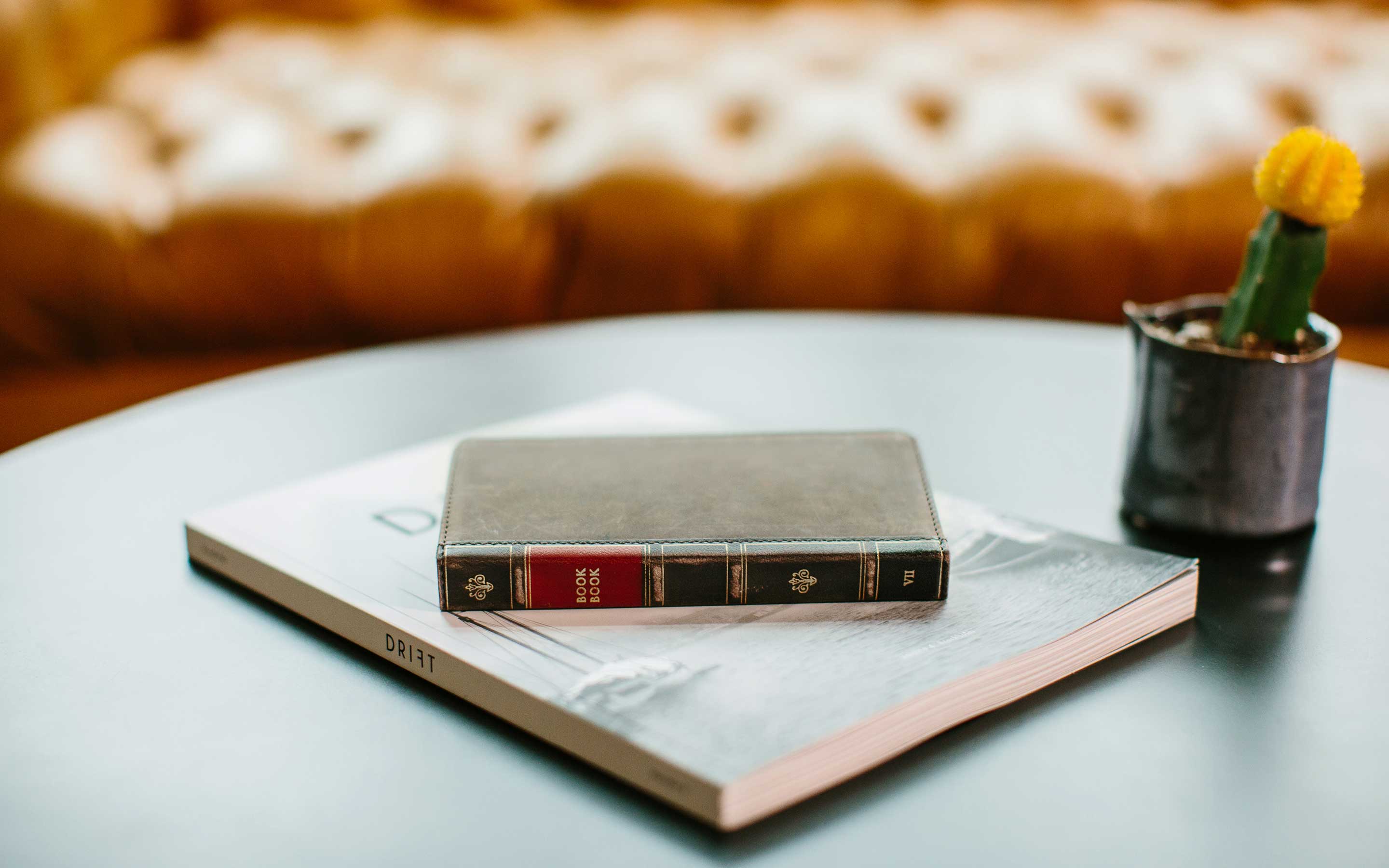 Unabridged fun. Pairing your iPhone case and wallet means you're always ready for adventure, whether it's finding a hot lunch spot or that tucked away, super cool Airbnb.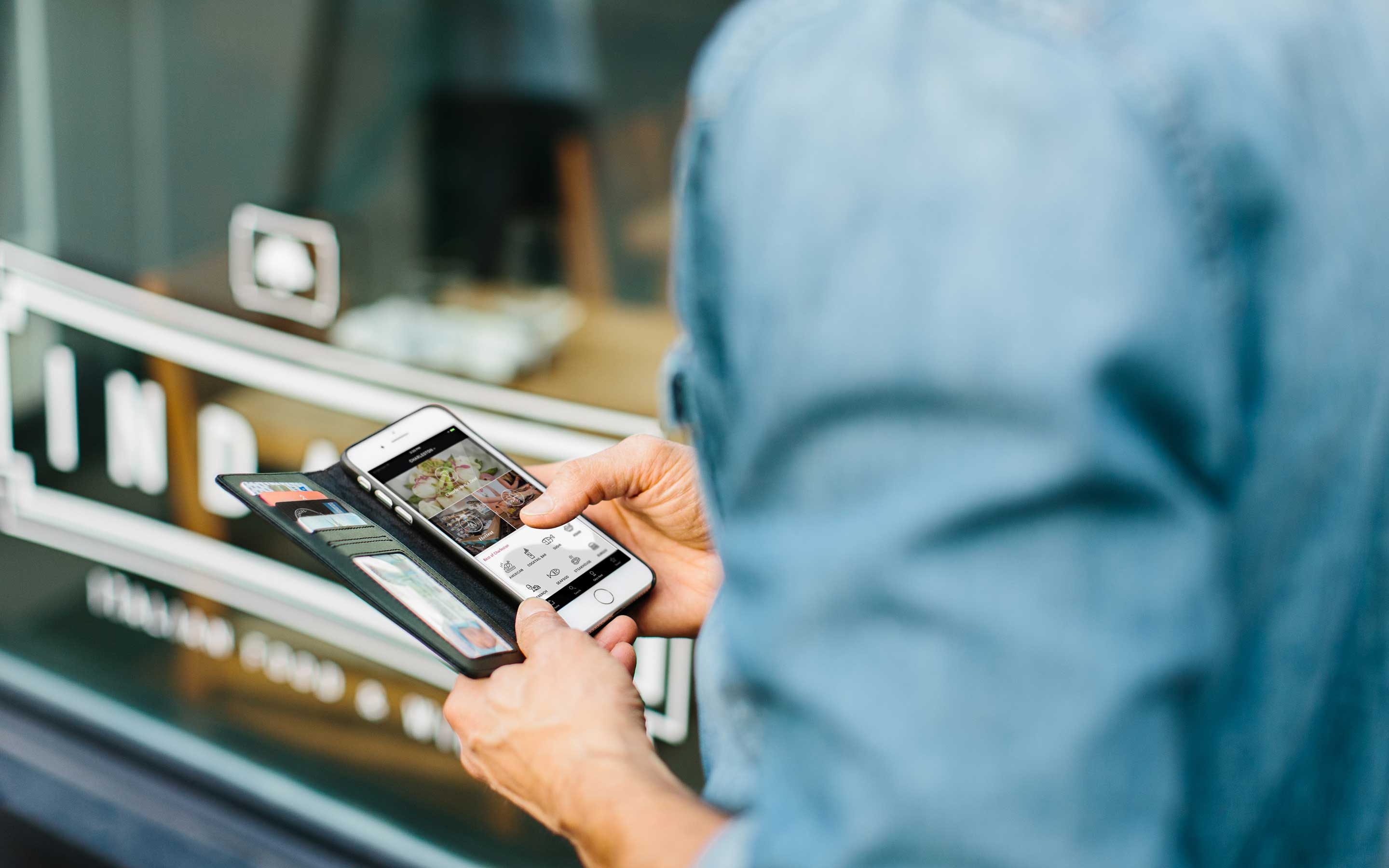 Made just for iPhone. Notice how the high-quality leather case is tailored to sweep around the iPhone camera lens.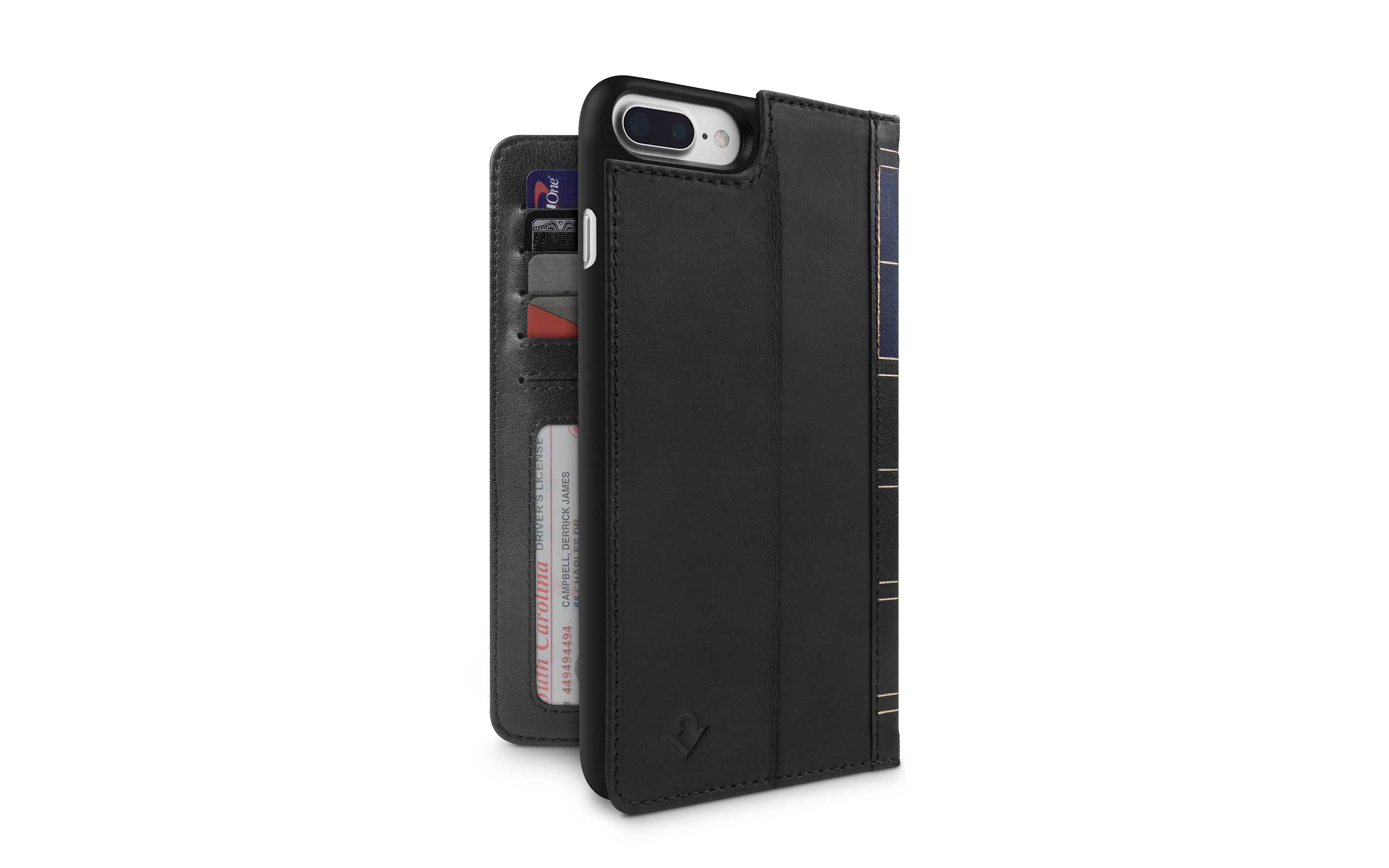 Protective leather jacket. If BookBook slips out of your hand, two hardback book covers and a rigid spine protect your iPhone.
Protective leather jacket. If BookBook slips out of your hand, two hardback book covers and a rigid spine protect your iPhone.
Business or pleasure. The gorgeous leather BookBook feels right at home in the pocket of a sport coat as it does in the back pocket of your favorite jeans.
Top-quality leather and craftsmanship. Look closely at this brown BookBook and you can see how precise and clean the stitching is on this unique case. As the leather wears, BookBook will get even better looking.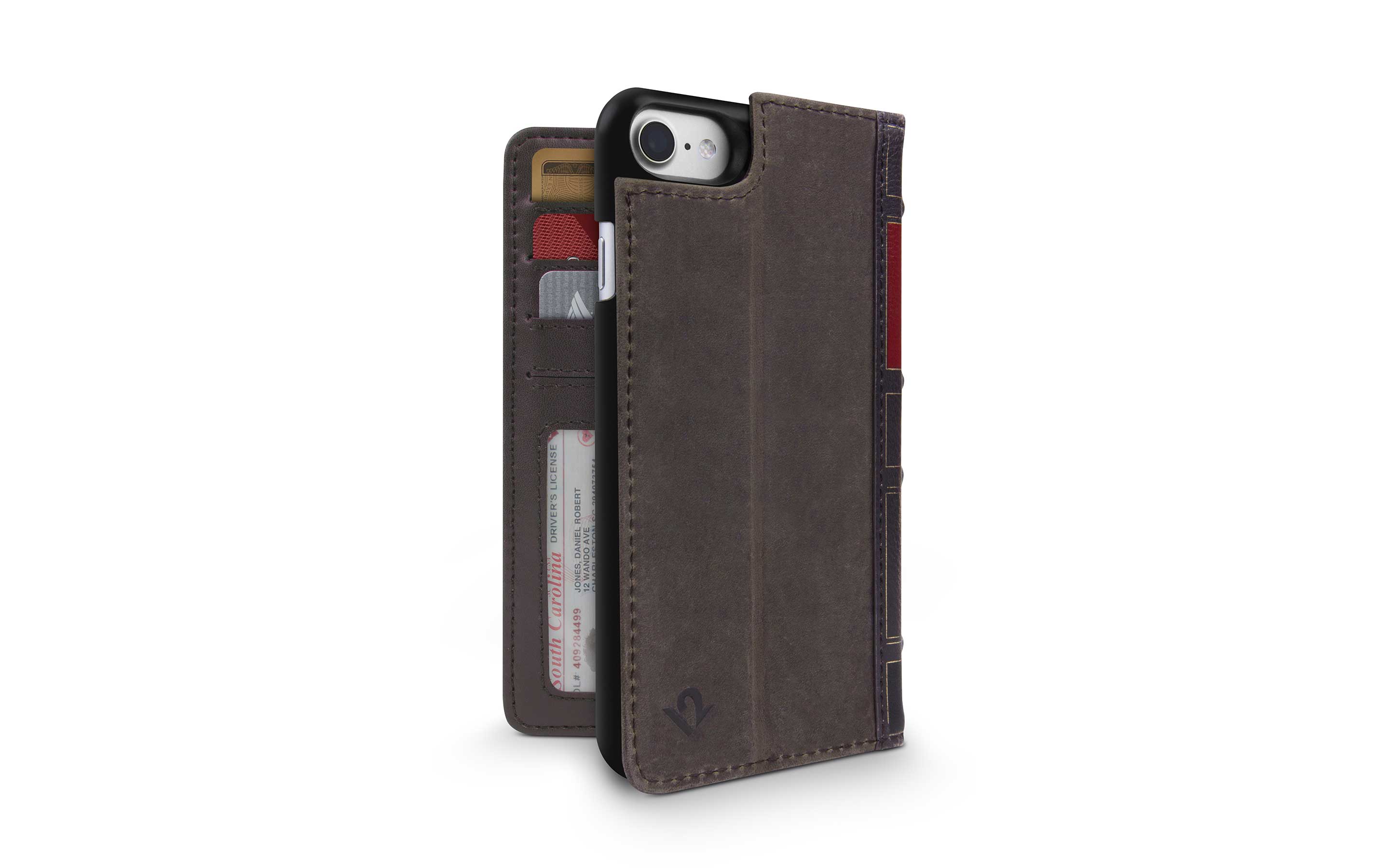 Call the shots. To talk on your iPhone while it's in a BookBook, all you have to do is fold the wallet side back.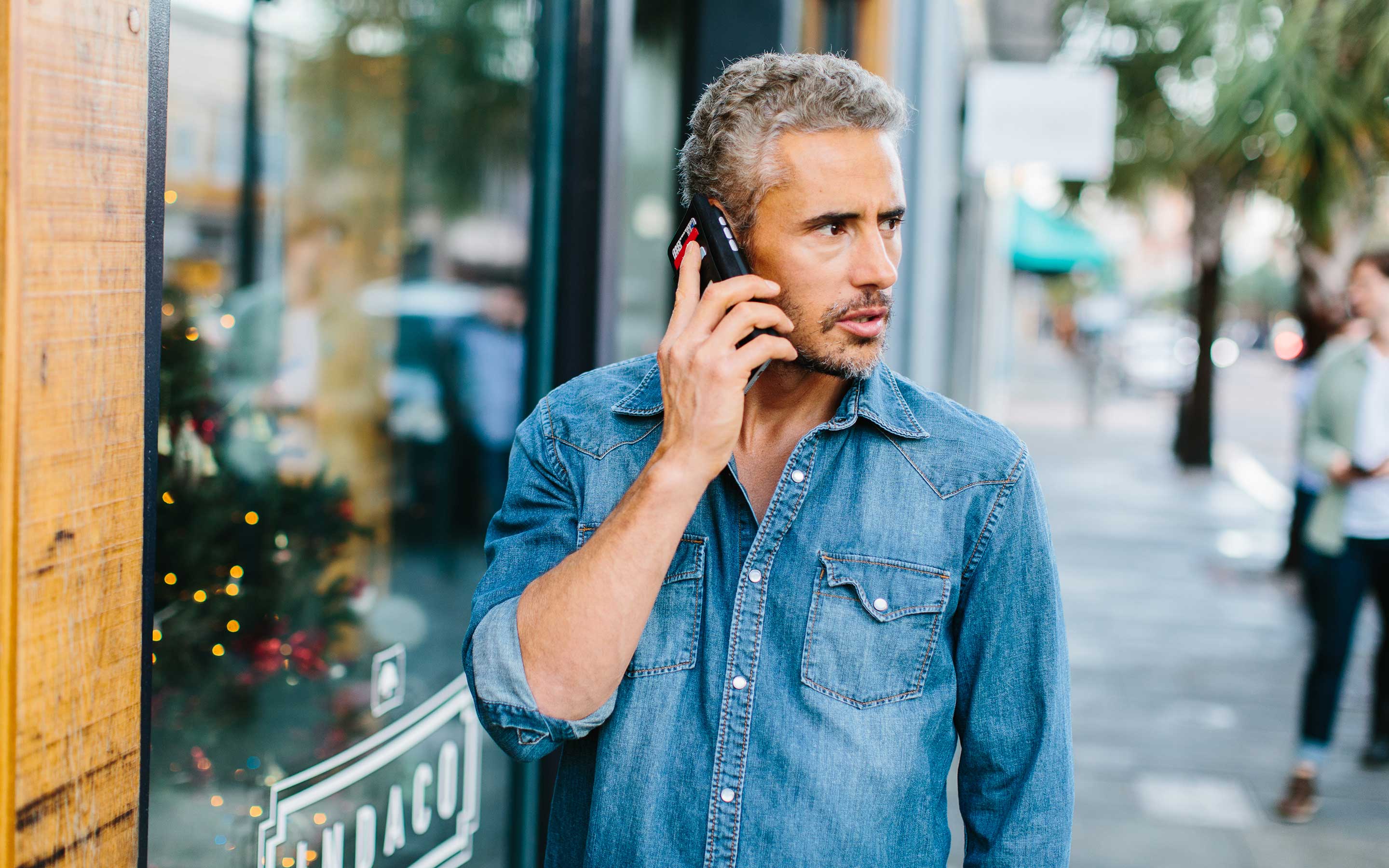 Hands-free viewing stand. Yes, there is a hands-free viewing stand built into BookBook for Skype calls, Netflix binging or entertaining a little one during dinner.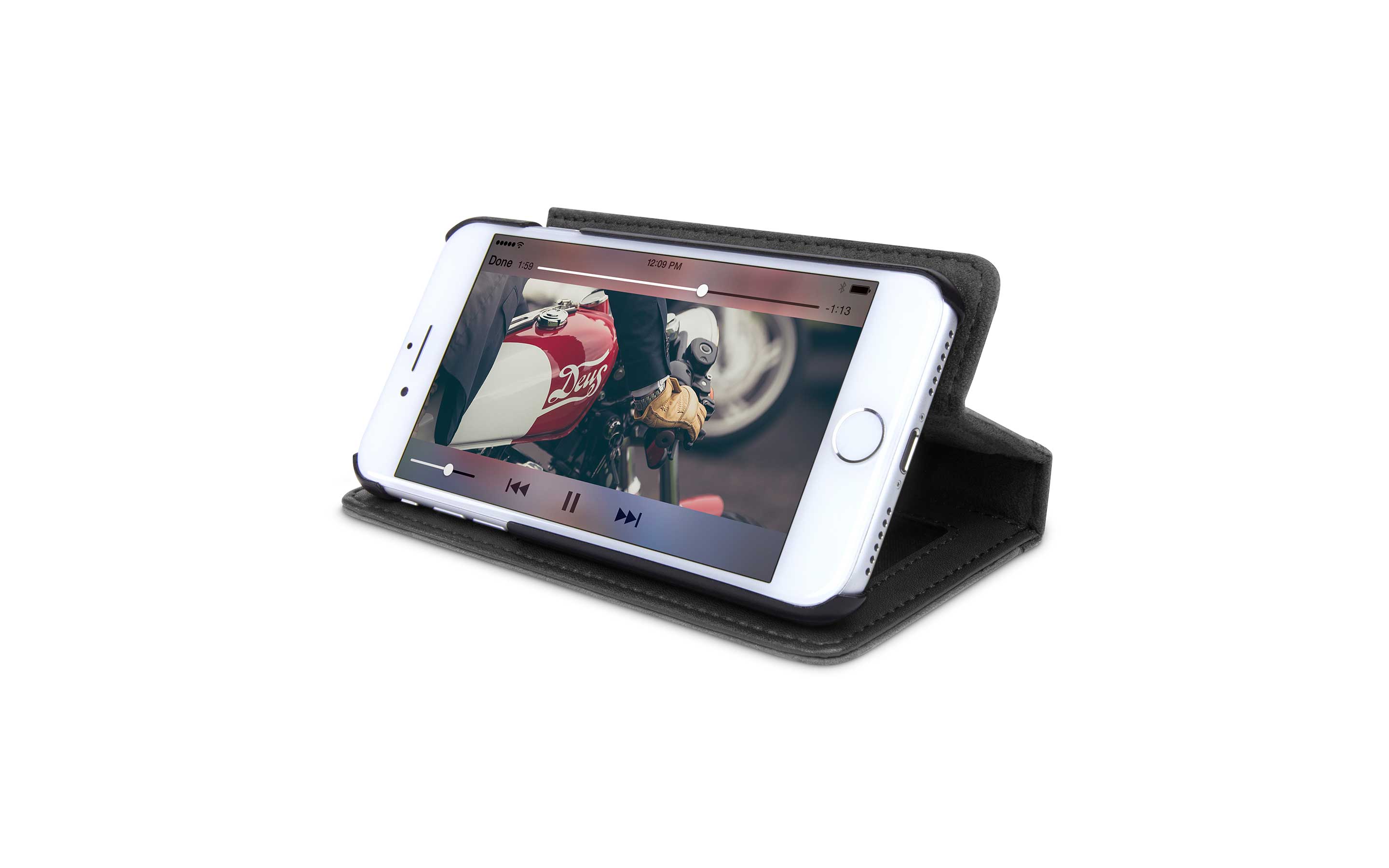 BookBook Specs
Product
Compatibility

iPhone 8
iPhone 8 Plus
iPhone 7
iPhone 7 Plus
iPhone 6 / 6s
iPhone 6 Plus / 6s Plus

iPhone 8 / 7 / 6 / 6s

Height: 5.5 inches (139.6 mm)
Width: 2.86 inches (72.8 mm)
Thickness: .79 inches (20 mm)
Weight: 2.3 ounces (65 g)

iPhone 8 Plus / 7 Plus / 6 Plus / 6s Plus

Height: 6.3 inches (160 mm)
Width: 3.34 inches (85 mm)
Thickness: .79 inches (20 mm)
Weight: 3.2 ounces (91 g)
BookBook FAQs
Do I have to remove my case for wireless charging?

No! We have tested the BookBook case on the new Qi charging docks and it will work with or without your leather outer. Meaning, you can use your phone fully encased in the book exterior or if you've removed the interior case it will also charge perfectly in the plastic shell.

Do you have a BookBook with a more subtle 'book' design?

Yes! We have a beautiful all-leather wallet case called Journal for iPhone 7 and 7 Plus. You can see our our finest, most luxurious iPhone case here.

What if I lose my BookBook, won't I lose everything?

We certainly understand that having everything in one place, although convenient, might also be a little scary if you misplace it. The great news is that with the Find My Phone app you will actually be able to find everything including your iPhone, cards and ID, that you lost. It's like adding GPS to your wallet!


Can I buy just the iPhone 7 or 7 Plus shell to fit into my BookBook for iPhone 6 or 6 Plus?

Even with the correct shell, the BookBook for iPhone 6s and 6 Plus will not be compatible with the iPhone 7 and 7 Plus because the camera hole in the leather BookBook cover is not large enough for the new camera lens. So no, the shells will not be available separately from the leather BookBook cover.


Can I access the controls and charge/sync my iPhone in the new BookBook?

Yes. You can access all controls on your phone while it's in BookBook. You can also charge/sync your iPhone with the wallet open or closed. The removable shell feature will not get in your way of this.

Will the BookBook case demagnetize my credit cards? Or will the iPhone?

No. BookBook for iPhone does not contain any magnets whatsoever. The iPhone does not create or use magnetic material of any appreciable size either, because, if it did, it would interfere with the iPhone's own internal Compass. Apple even warns against using any iPhone case with magnets. Extensive internal testing has reaffirmed that credit cards will not be erased by being held in close proximity to your iPhone in a BookBook.