The ultimate pedestal for iPhone & iPad.
HiRise Deluxe is a beautiful metal pedestal for charging and hands-free use of your iPhone, iPad, and everything Lightning. Set HiRise on your desk for hands-free calls and eye-level FaceTime sessions, or use this small stand at home to keep iPhone fully charged while streaming music to your favorite speaker. Since HiRise uses Lightning to charge, you can also charge your Apple TV Siri Remote, Magic Keyboard, and almost any other Lightning device. Adjustable support posts makes HiRise compatible with most iPhone and iPad cases and shells. HiRise Deluxe includes both MFi-certified Lightning and Micro-USB cables to keep your iPhone charged, even in a battery case like the Mophie Juice Pack. HiRise Deluxe is available in Silver, Black, Gold and a new Rose Gold color to match your iOS device. Compare HiRise Deluxe to HiRise Original.

Elevate your iPhone experience.
Having your iPhone elevated by HiRise means you can FaceTime or Skype hands-free. Because HiRise lifts your iPhone in the air, it doesn't block or muffle your microphone or speakers. Speakerphone calls are crisp and clear. HiRise is also awesome for keeping an eye on your favorite iOS apps, like those for news, weather and sports scores.
Charges way more than just iPhone & iPad.
HiRise charges using Apple's Lightning cable, which now powers much more than just iPhone and iPad. Have an Apple TV? HiRise is the perfect perch for the new Siri remote or game controllers like the SteelSeries Nimbus, keeping them charged and out of the couch cushion.
At the office, HiRise charges all the new Apple Magic peripherals, from Magic Mouse 2 to Magic Keyboard. Dock your Magic accessories on HiRise when power is low at the end of the day, and your mouse or keyboard will be fully charged and ready for work in the morning.
Deluxe on details.
HiRise Deluxe takes the beautiful design of HiRise for iPhone, and adds some thoughtful, yet gorgeous details that make this the most beautiful desktop dock available for iPhone. A machined dial, inspired by our HiRise for MacBook, allows for simple, one-handed adjustment of the rear support when switching cases or devices. Also unique to HiRise Deluxe is a chamfer detail surrounding the base, adding even more dimension and style to this one-of-a-kind stand.
HiRise Deluxe includes both a MFi-certified Lightning cable and Micro-USB cable. The included Lightning Cable means you can continue to carry your original cable everywhere you go, while the included Micro-USB cable lets you charge your Mophie battery case while on your iPhone.
SaveSave

The Perfect Pair Bundle.
HiRise for Apple Watch was designed from the beginning as a mirrored companion of HiRise for iPhone. Together they charge the two most important mobile devices in your life. They look great side-by-side, or use Apple Watch at bedside and HiRise for iPhone in the kitchen. This perfect pair (HiRise Original + HiRise for Apple Watch bundle) is available now for only $79.99.
The most flexible stand for iPhone, case closed.
One of best features of this little stand is that it adjusts to fit so many cases. The rear support on HiRise slides back and forth to support protective cases, minimal shells or no case at all. With a sliding rear support and multiple-height clips, you won't have to give up your dock when choosing your next case.
Meet the whole family.
Our HiRise family is the perfect way to elevate your MacBook, iMac, iPad or iPhone to a more comfortable viewing height. All three HiRise models are made from sturdy steel to support, showcase and boost your Apple user experience.
Handy desktop companion. Place HiRise on your workspace, next to your desktop setup. Keep your eyes focused on your Mac and use iPad mini for at-a-glance apps like news, stocks, weather and sports.
HiRise can charge all the new Magic accessories, from Keyboard to Mouse.
Charge your iPhone 6s Smart Case right on HiRise, no need to remove your case to recharge.
HiRise Deluxe in Rose Gold
The perfect bedside companions. HiRise for Apple Watch was designed from the beginning as a mirrored companion of HiRise for iPhone. Together they charge the two most important mobile devices in your life.
Headphone friendly. Notice that HiRise doesn't block the iPhone headphone port or iPhone speakers. With or without headphones, your iPhone will deliver crystal clear sound atop HiRise.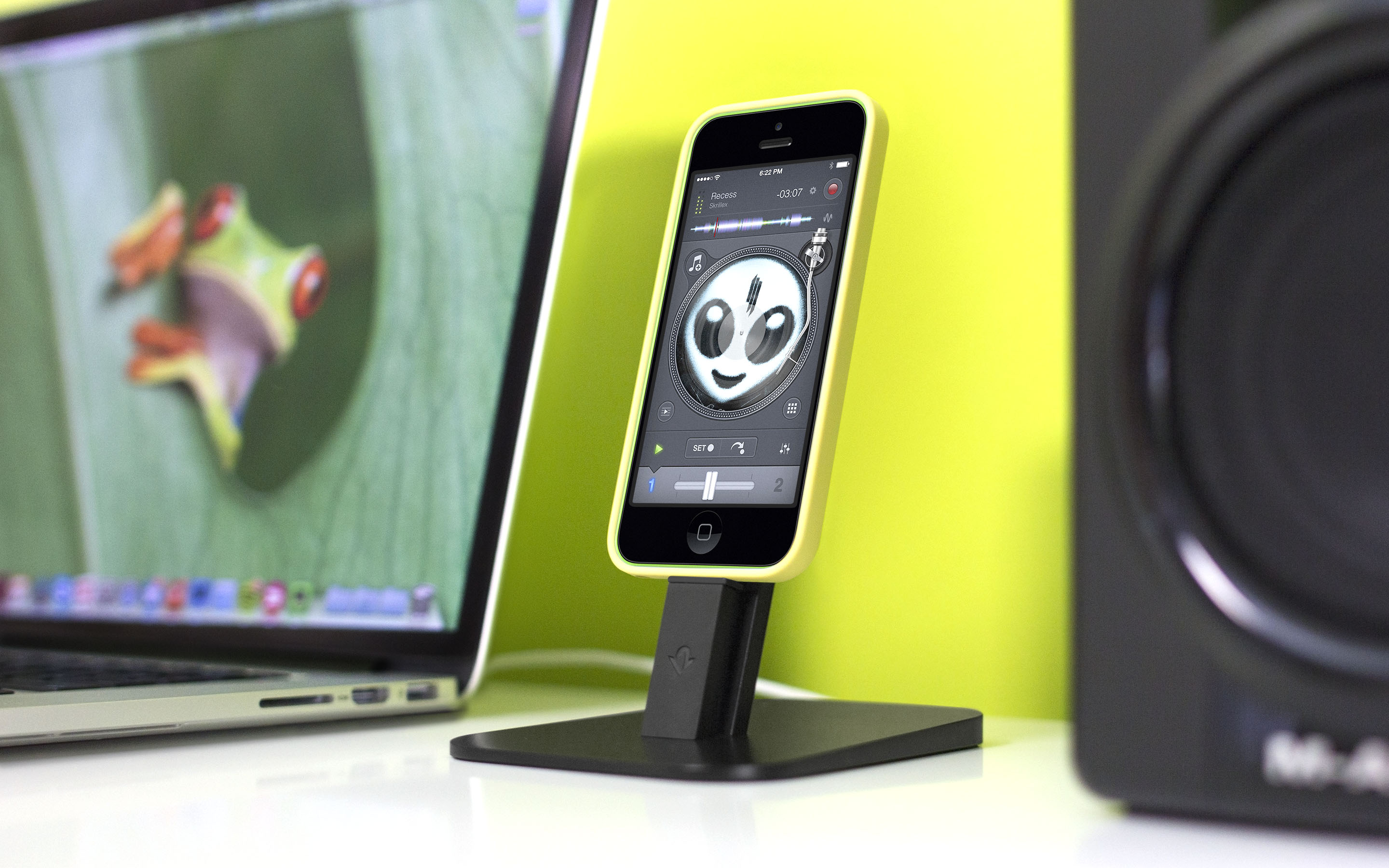 HiRise Specs
Product
HiRise for iPhone/iPad

Height (Front Support): 1.65 inches (4.2 cm)
Height (Total): 3.38 inches (8.6 cm)
Width: 3.9 inches (10 cm)
Depth: 4.8 inches (12.2 cm)
Weight: 0.5 pounds (.22 kg)

Compatibility

iPhone
iPhone 6 Plus / 6s Plus
iPhone 6 / 6s
iPhone SE
iPhone 5 / 5s / 5c

iPad
iPad Pro 9.7"
iPad mini (all generations)
iPad Air (all generations)

Devices Charged via Lightning, including:
Apple TV Siri Remote
Apple Magic Keyboard
Apple Magic Trackpad 2
Apple Pencil (with adapter)
SteelSeries Nimbus Controller

HiRise FAQs
How can I know if my case will work with HiRise? (video)

Step 1: While connected, use your thumb to mark the visible portion of the lightning cable

Step 2: Measure from your mark to the top of the white overmold of your cable

Step 3: If it measures 5mm or less, your case is compatible!

Can I undock my iPhone from HiRise with one hand? (video)

Yep, check out the video below:


Although you can undock your iPhone from HiRise with one hand, we do recommend using two hands when undocking an iPad from HiRise.

Do I have to remove my iPhone case to use HiRise?

No way. HiRise works with many iPhone cases on the market today. You can also use your iPod Touch (5th generation) or iPad with HiRise and nearly any case that covers them.

Does HiRise muffle my iPhone speakers?

Nope. Having iPhone elevated on HiRise means your speakers will sound just like Apple intended them too. Sound won't be blocked, distorted or muffled as it would with a drop-in style dock.

Can I use HiRise if I have the Apple iPhone 6 or 6 Plus case installed on my device?

Yep! Use the #0 clip and adjust the rear support slightly to use HiRise to dock your iPhone without having to remove your Apple iPhone 6 or 6 Plus Case.

Is HiRise compatible with the iPhone 6 Otterbox Defender Case?

No, unfortunately the new Otterbox Defender Case for iPhone 6 / 6 Plus raises the Lightning port of iPhone 6 too high to work with HiRise.

Does HiRise block access to the headphone jack on my iPhone?

No. Unlike cup holder type docks, HiRise elevates iPhone so you can easily use the headphone jack.

Can I use Apple's 2-meter Apple Lightning Cable with the original HiRise for iPhone?

No. The 2 meter Apple Lightning Cable is thicker than the standard 1 meter cable (the one that came with your iPhone) or .5 meter cable, so it is unfortunately incompatible with HiRise for iPhone. If you need additional length, we recommend extending the length of your 1-meter cable instead by buying a USB extension cable instead (like this one).

Can I use a different brand of Lightning cable than Apple?

The original HiRise is designed to work exclusively with the Apple Lighting Cable that came in the box with your iPhone, iPod Touch or iPad. The Apple Lightning Cable fits perfectly with the original HiRise height-adjustable clips, allowing you to use HiRise with nearly any case on the market.

The HiRise Deluxe works exclusively with the Twelve South lightning cable and micro USB cable included with the Deluxe.

How to assemble the original HiRise for iPhone [VIDEO]

Why does HiRise use the Apple Lightning Cable?

HiRise for iPhone/iPad mini uses the Apple Lightning Cable exclusively. It's the cable that came with your Apple iPhone 5, iPad mini or iPod Touch (5th gen.) Here's why:

The Apple Lightning Cable is the secret to using HiRise with practically any case. The HiRise height-adjustable clips, along with the Apple Lightning Cable, means HiRise can work with practically any case on the market today–especially cases with recessed connections that no other dock can fit.

All Lightning Cables are not created equal. Exclusively using Apple's Lightning Cable allows us to create a perfectly-fitting dock with the smallest and highest-quality Lightning cable we know of–the Apple Lightning Cable you already have.

It makes the best possible desktop stand. Most users have additional specialized Lightning cables, such as car chargers or shorter travel cables. This leaves an Apple Lightning Cable at home. Installing an Apple Lightning Cable into HiRise turns your already-stationary cable into a beautiful, convenient desktop dock.

How do I identify the Lightning cable clips and insert them into HiRise? (photo)

Each Lightning cable clip has a number imprinted on the bottom of the clip. These numbers represent the additional height it will provide your Lighting cable if using HiRise with an iPhone that has a case installed.

What is the benefit to keeping my iPhone on a HiRise?

HiRise for iPhone is a perfect way to charge and sync your Lightning-based iPhone, iPod Touch (5th generation) or iPad, while using nearly any case that covers them. HiRise is small enough to use at your workspace or anywhere in your home or office. Plug your Lightning Cable into a wall outlet for charging or plug it into your iMac or MacBook to charge and sync your phone using HiRise.

Where can I buy an extra Twelve South Lightning cable?