Luxury protection for the world's best phone.
Designed for:

iPhone 6 / 6s

iPhone 6 Plus / 6s Plus

iPhone 7

iPhone 7 Plus

iPhone 8

iPhone 8 Plus
Presenting Journal for iPhone, our finest, most luxurious iPhone case ever. Wrap your hand around this handsome folio and all you feel is the warmth of full-grain, hardwearing leather. Even the composite shell that holds iPhone has a beautifully crafted leather inlay. Like a fine pair of shoes, this case will only get better with age. Journal has slots for cards, cash and a window for your ID. A built-in viewing stand is perfect for hands-free FaceTime calls or watching the latest TED Talk. Journal for iPhone is available in Black or Cognac.

Are you looking for a case for the upcoming iPhone X release? We're working on them now, so if you'd like to be notified when they are available, simply sign up here!
Full-grain leather, inside and out.
Journal is a premium, all-leather wallet case for iPhone, not just a plastic shell with a card flap added. Instead, full-grain leather is not only used on the outside, but throughout the interior as well. Each case is stitched to perfection and expertly tanned making the finished product comfortable alongside some of the finest hand goods in the world. For the style conscious, the clean design of Journal looks as dashing with a suit as it does dressed down with jeans.
Streamlines your everyday carry.
Your iPhone, debit card and driver's license are with you everywhere you go. Journal holds all of those items in one stylish leather folio. Baked into the wallet side of Journal are three (8 / 7) or four (8 Plus / 7 Plus) card slots, an ID window and a pocket for cash and receipts. The right side features a leather lined shell that securely holds iPhone. Combining your wallet and iPhone means one less thing to remember when you walk out the door. Misplace the combo? Use 'Find my iPhone' to locate it. A modern wallet indeed.
Bikers wear it for a reason.
Along with dashing good looks, the all-leather Journal securely protects your iPhone with hardback covers and a reinforced spine that provide a shield against drops and dings. The leather wrapped shell is bezeled to protect your iPhone screen in the event that the folio opens during a drop. This case not only oozes style but gives you all the protection necessary to keep your iPhone safe during your daily travels. The only question left is will you order Black or Cognac?
Hands-free video stand and handy privacy shield.
One of the coolest features of Journal is that the folio folds into a hands-free display stand. Use it to watch sports highlights, take a Skype call in the airport or entertain the little ones when out to dinner. As a bonus, the folio can be used to shield the sun when taking pictures or for extra privacy from the prying eyes next to you on a flight.
Carry the world's most popular camera in your wallet. Journal for iPhone holds iPhone 7 and its amazing 12 megapixel camera in a way that lets you quickly capture the perfect Instagram shot or video
Clean, simple design. This expertly tanned, premium leather wallet and iPhone case features a classically simple design that looks and feels great in your hand.
Black or Cognac? Which of the two colors will you choose?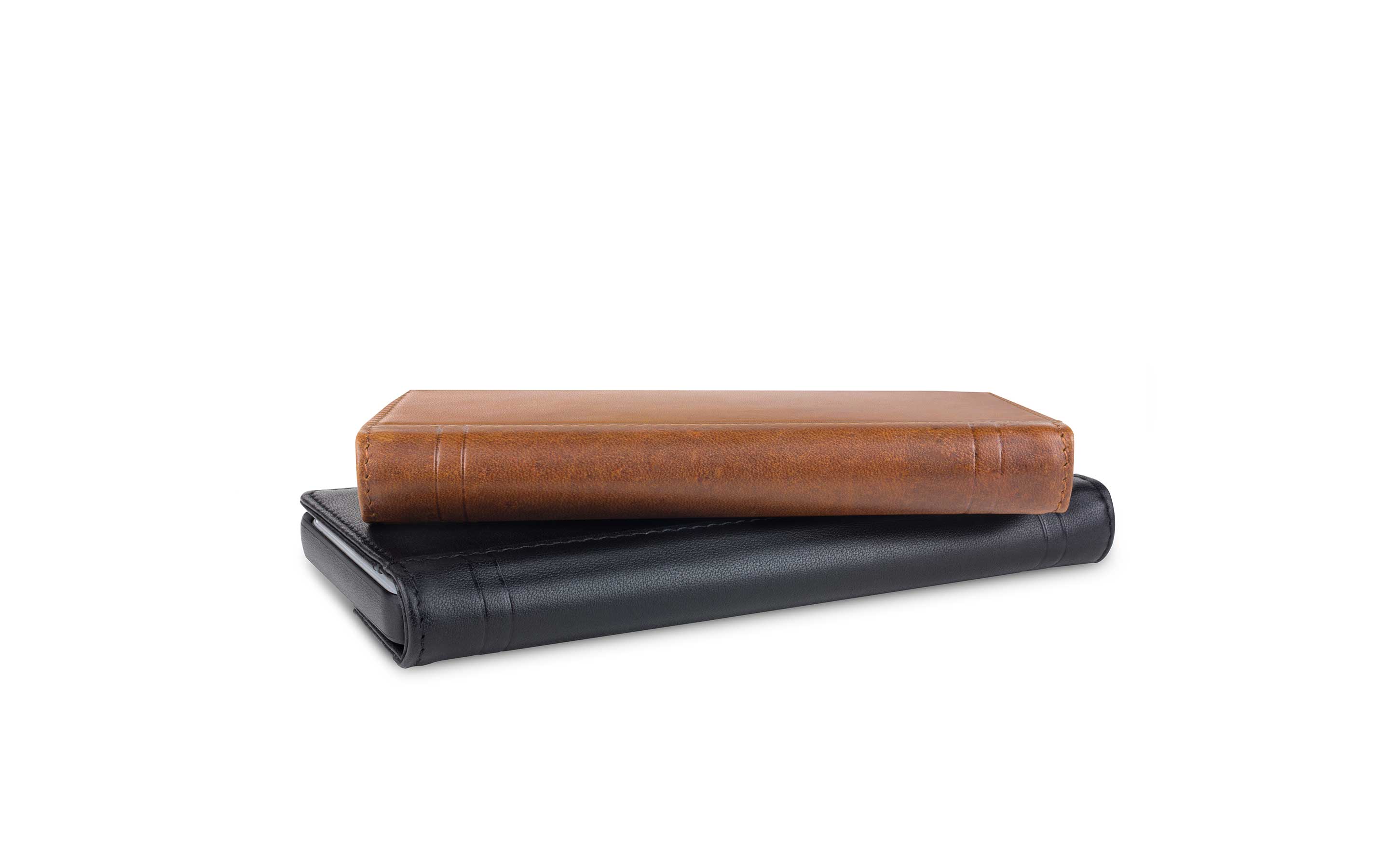 Book a FaceTime chat. Take a FaceTime or Skype call on your wallet. You can use the folio side of Journal as a privacy shield to keep people from peeking at your screen.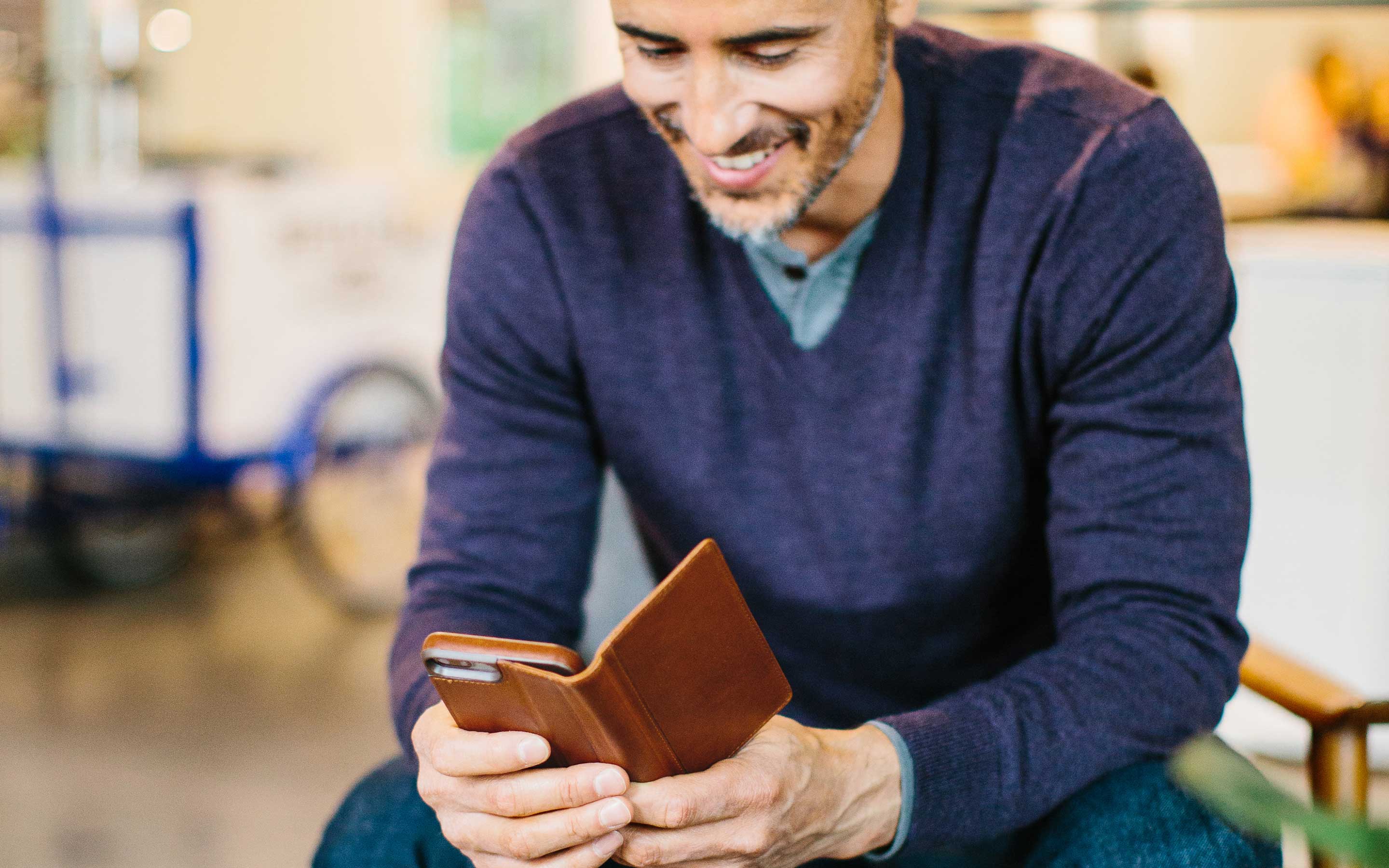 All leather design. You'll feel nothing but the warmth of leather when you hold Journal in your hand. That's because Journal is covered with premium leather, inside and out.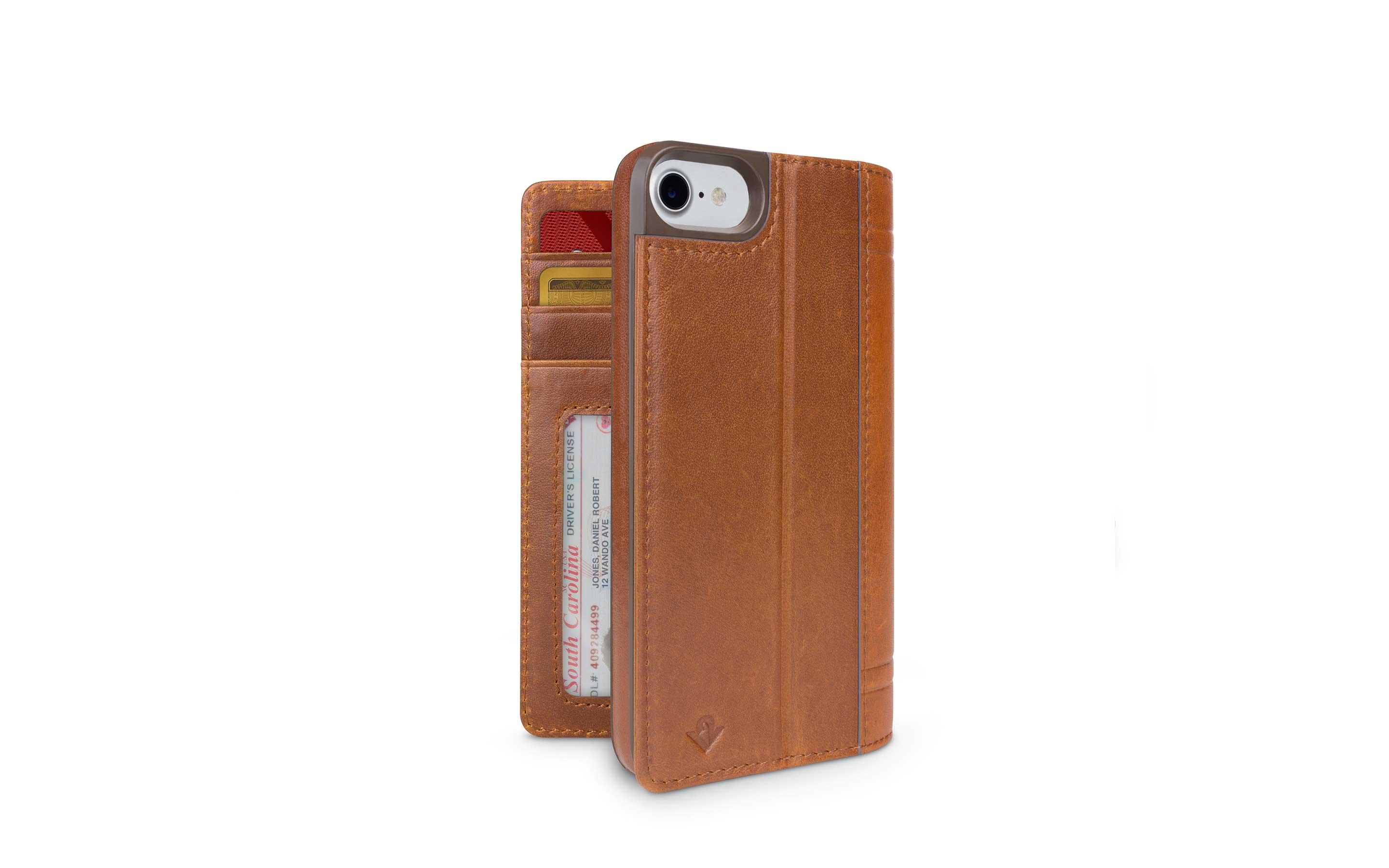 What? It does that too? Yes, Journal folds into a hands-free viewing stand. Watch sports highlights, stream videos or free up your hands for note taking during a Keynote presentation.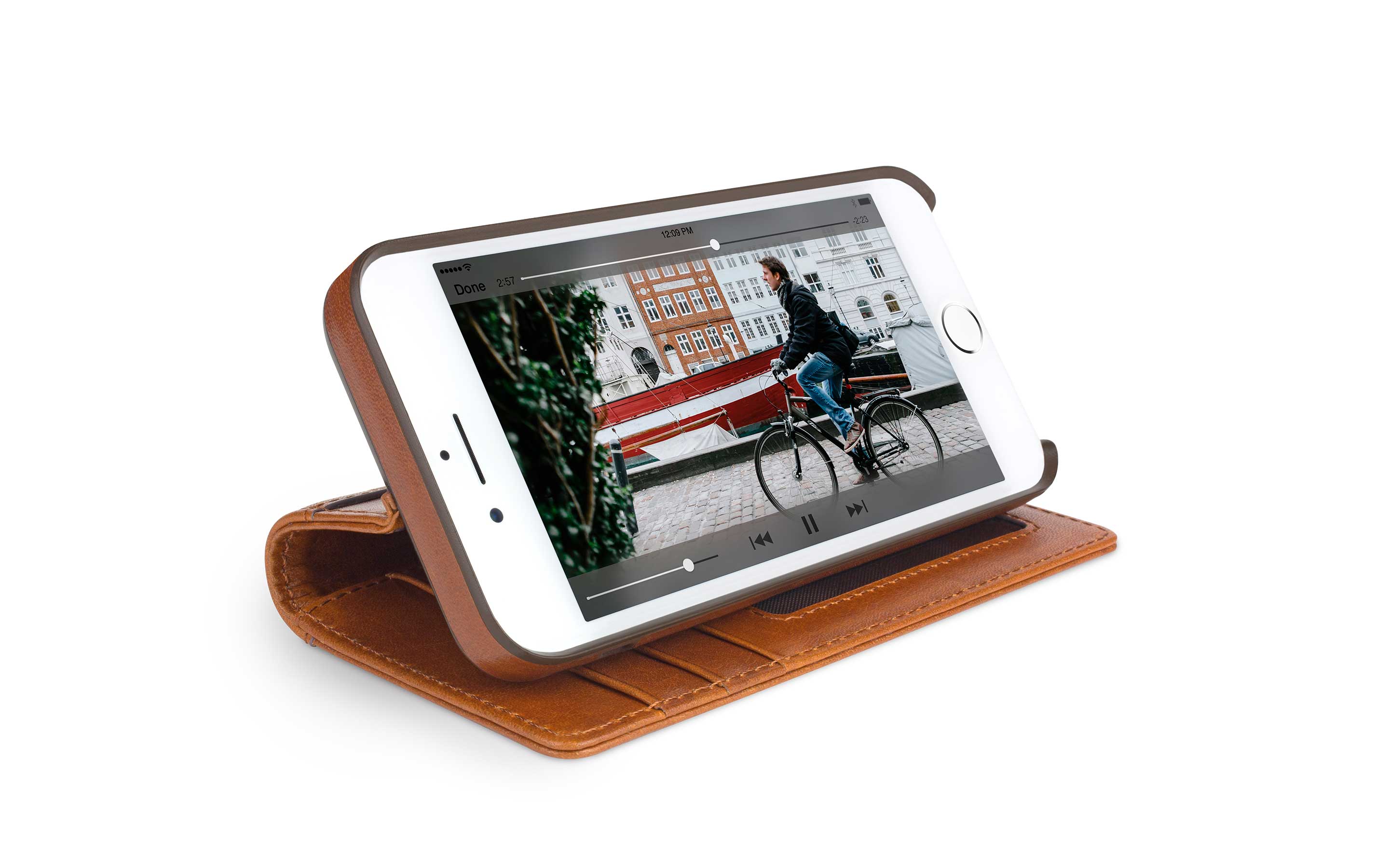 Tailored exclusively for iPhone 7. Journal fits iPhone 7 and 7 Plus like a glove. Notice how precisely the leather case flows around the dual lens on an iPhone 7 Plus.
Dress up or down. This gorgeous leather folio looks as good dressed up with a suit and tie as it does with jeans and a tee.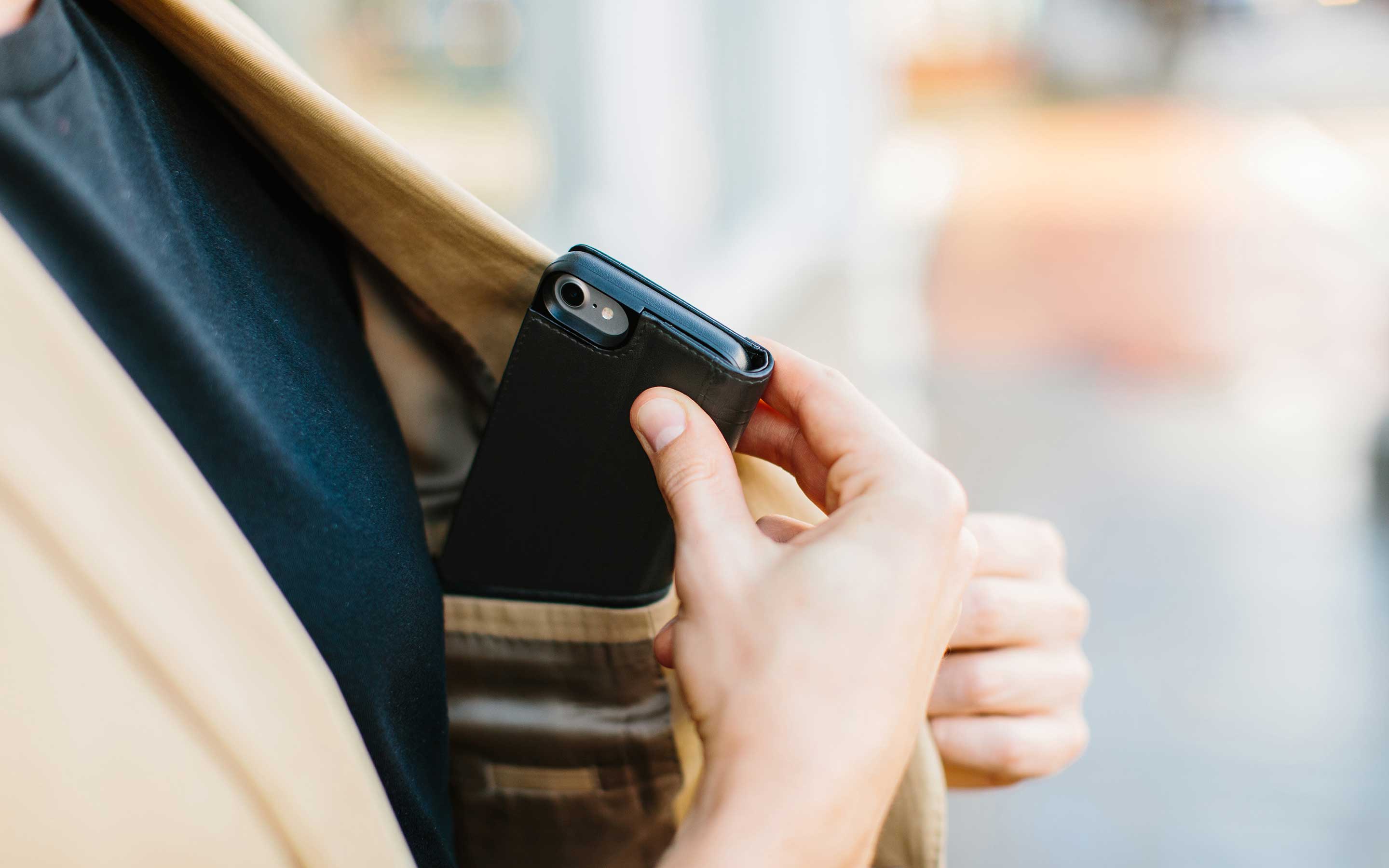 Your everyday essentials in one place. Carry your iPhone, debit card, credit card, cash and driver's license in one simple case. And if you misplace Journal, simply use Find My Phone to track it down.
Tough leather shield. The leather Journal protects your iPhone from the bumps and scraps that come with everyday use. Journal even has a beveled iPhone frame to help protect the screen should the folio open during a fall.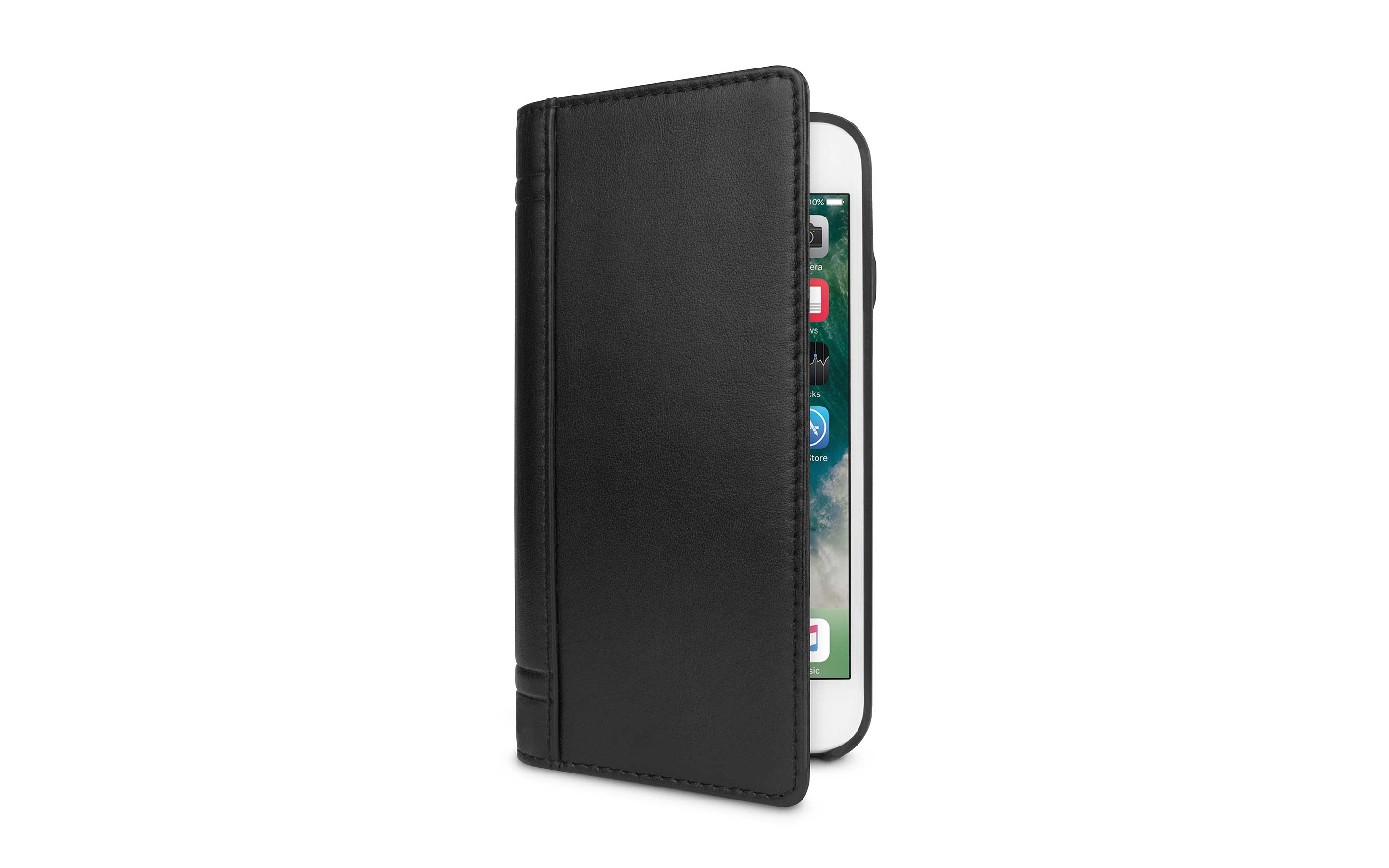 Great call. Here you can see how the folio folds back, out of the way during calls. Look closer and you'll notice you have access to the volume buttons on your iPhone.
When Apple Pay won't do. Since Journal holds your bank cards, you won't be left hanging if Apple Pay isn't an option. You'll also have your ID at the ready if needed.
Better together. Here you can see how well a wallet and iPhone go together. Journal for iPhone 7, shown here, has three card slots. The iPhone 7 Plus model has four slots for cards.
Beauty of leather. Like all premium leather goods, Journal for iPhone 7 will only get better looking and more comfortable as it ages.
Journal Specs
Product
Compatibility

iPhone 8
iPhone 8 Plus
iPhone 7
iPhone 7 Plus
iPhone 6 / 6s
iPhone 6 Plus / 6s Plus

iPhone 7

Height: 5.5 inches (139.7 mm)
Width: 2.88 inches (73.15 mm)
Thickness: .813 inches (20.65 mm)
Weight: 2.3 ounces (65 g)

iPhone 7 Plus

Height: 6.3 inches (160.02 mm)
Width: 3.3 inches (83.82 mm)
Thickness: .813 inches (20.65 mm)
Weight: 3.2 ounces (91 g)
Journal FAQs
Is the interior shell removable?

No. The interior composite shell is incorporated into the folio surround and cannot be removed.

Is the Journal for iPhone 7 and 7 Plus compatible with the iPhone 6 and 6 Plus?

Yes. The iPhone 6s and 6s Plus are compatible with the Journal. The main difference is that the camera lens is positioned a little higher than center in the camera hole but in no way reduces the functionality of the camera.