BookBook Vol. 2 for MacBook
Protection, security and style? Meet BookBook.
BookBook is the iconic MacBook case that makes a statement wherever it goes. Our Vol 2 edition is refined and tailored exclusively for the USB-C MacBooks with a slim silhouette and a strong, crush-resistant spine, with the added bonus of a hidden portfolio pocket to carry printed reports, swatch samples, contracts and so on. You don't have to take our word for it. See what Ben Lovejoy from 9to5 Mac has to say! "TwelveSouth products always have a feel of quality, and this is no exception. Beautiful stitching, inside and out; high-quality leather; soft felt interior to guard against scratching; and smooth-running zips." What makes BookBook the ultimate case?
• Genuine leather provides six-sided protection
• BookBook can be used as a case or a sleeve
• Interior hidden pocket for storing papers
• Adds an extra level of theft protection with the vintage book disguise
• Perfectly fits new (late 2018) MacBook Air with Retina & MacBook Pro

Have an older MacBook? We've got you covered! Shop legacy BookBook's here.
Prologue: A secret hideaway for documents.
We know owners of previous BookBooks have been carrying paperwork inside the case as long as it's been around. To make it even easier, we created a special compartment for a few important documents. Lift up the BookBook tab to reveal a hidden document pocket. Use this sly space for things like sketches, reports, or the contract you expect your client to sign after seeing your killer Keynote presentation.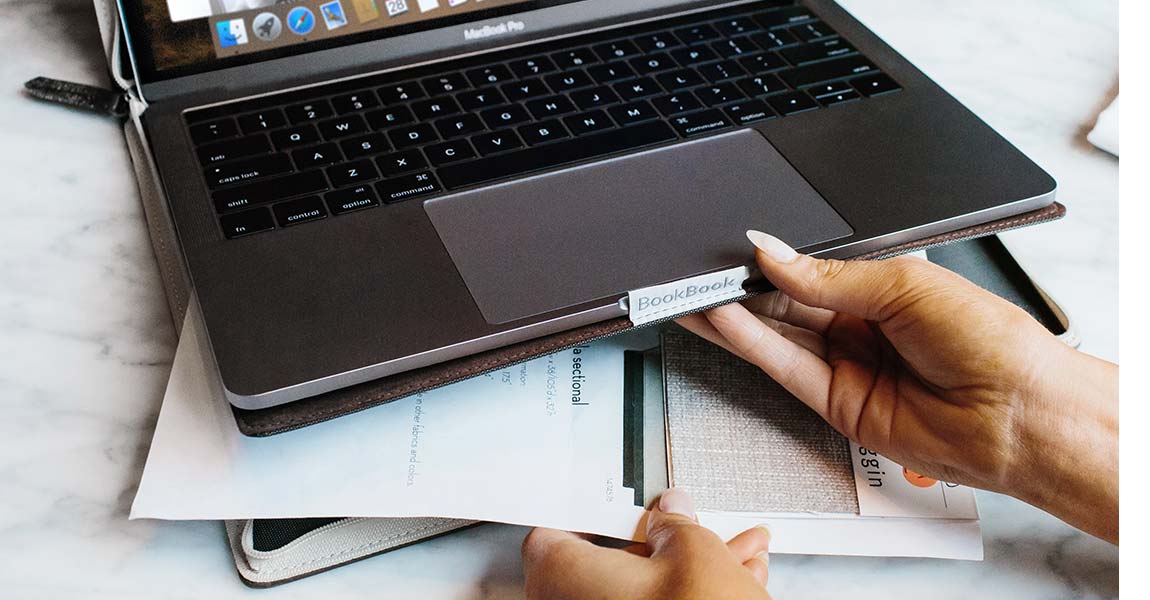 Chapter I: Luxury protection. Cover to cover.
Perhaps the finest feature of BookBook is the level of protection it provides your MacBook. Inside, soft microfiber protects the surface of your Mac from scratches. Zip BookBook closed and your MacBook is now safely shielded between two hardback book covers, both of which have reinforced corners, while the spine is rigid and crush resistant.
Each BookBook is made from premium leather, and is brought to life with hand craftsmanship and distressing, ensuring no two are alike. From dual zippers with leather pulls (that at first glance look like bookmarks) to it's beautiful distressed leather covers, BookBook is truly a work of art.
Chapter II: This case doubles as a shell.
Did you know you can use your MacBook while it's parked in your BookBook? BookBook has two elastic bands on the inside cover of the case. When you first place your MacBook inside BookBook, slip those bands over the corners of your screen. Next time you open your BookBook, your MacBook screen will open with it allowing you to type, swipe and interact with the TouchBar without having to remove the computer from the case.
Epilogue: It's the perfect disguise.
Our BookBooks have been protecting MacBooks from the hands of thieves for over six years. Customers have shared stories of finding their homes and cars broken into and their MacBooks untouched because the burglars were fooled by the vintage book look of BookBook. It's the one benefit we hope you'll never need, but it's there just in case.
Rutledge Edition: the Afterword to BookBook.
Want something even more special? The new Rutledge Edition of BookBook is the most distinctive version of BookBook, and its remarkable design is a story in itself. We developed an entirely new technique for applying multiple layers of color, then carefully removing selected elements – revealing a radiant tapestry of hues and patterns. Each cover reveals a slightly different finish, as the brilliant tones follow the natural grain of the leather itself. This creates a premium yet distinctive look you won't see on any other case or sleeve. Rutledge is a show stopper – and conversation starter – at the same time.
Legendary MacBook case. This is the sixth version of the iconic BookBook for MacBook. As each new MacBook is being introduced, our loyal customs start asking when the newest BookBook will ship.
Secure way to shuttle your MacBook. BookBook provides six-sided protection for your MacBook. It's all you need to safely carry your Mac from one place to the next.
Precision tailored for the newest MacBooks. This BookBook model is 42% thinner, making it fit your new MacBook Pro like a glove.
No two are exactly alike. Did you know our BookBooks are brought to life with hand craftsmanship and distressing? That extra effort makes each case unique.
What MacBook Pro? BookBook cleverly disguises your MacBook to look like a book, adding an extra level of protection.
Part of the BookBook family. Yes, you can buy a BookBook for other MacBook models, iPads and iPhones. Start, or add to your collection today.
What's inside BookBook? The interior of this gorgeous case is lined with a cushy layer of soft, suede-like microfiber to keep your MacBook looking like new.
Hidden portfolio pocket. We made carrying contacts, color swatches, printed reports and other documents easy to carry with a hidden pocket in the bottom of BookBook.
An extra layer of sophistication. We know people have been carrying paperwork inside their BookBooks, so we carved out a special place for it.
Crus Resistant spine. This case wrote the book on MacBook protection. The crush resistant spine on this BookBook may be our toughest yet.
Luxury leather looks so much better. BookBook is a handsome case that commands attention when you remove it from your bag.
Reinforced corners. Each hardback book cover on this case has reinforced corners, and embossed cornices, to protect your MacBook should you drop it or the bag you carry BookBook in.
A case worthy of your expensive Mac. Your MacBook is valuable, as is all of the data stored on it. Protect it with BookBook, a case that protects all six sides of your Mac.
Open BookBook and MacBook opens with it. See those little bands on the top corners of the MacBook display? They attached to your display so your Mac opens with the case.
Premium oil-pull up leather. High quality, genuine leather ensures your MacBook will last and cleans up easily.
Gets better with age. Like your favorite leather jacket or boots, BookBook gets better looking as the leather wears and its natural patina works its way out.
BookBook Vol. 2 Specs
Product
12" BookBook vol. 2

Compatible with:
12-inch MacBook

Height: .8 inches (21 mm)
Width: 11.8 inches (300 mm)
Depth: 8.5 inches (215 mm)
Weight: 13.7 ounces (.39 kg)

13" BookBook vol. 2

Compatible with:
13-inch MacBook Air with Retina Display (late 2018)
13-inch MacBook Pro with Thunderbolt 3 (USB-C)

Height: .8 inches (21 mm)
Width: 12.6 inches (322 mm)
Depth: 9.3 inches (237 mm)
Weight: 17.3 ounces (.49 kg)

15" BookBook vol. 2

Compatible with:
15-inch MacBook Pro with Thunderbolt 3 (USB-C)

Height: .8 inches (21 mm)
Width: 14.5 inches 369 mm)
Depth: 10 inches (256 mm)
Weight: 21.2 ounces (.59 kg)
BookBook Vol. 2 FAQs
How many papers can I carry in the hidden pocket?

We don't recommend over stuffing your BookBook Vol 2. Depending on the thickness of your paper, you can carry between 10 and 20 pages or similar thickness with swatches, color chips or fabric samples.

Can I carry magazines for my trip?

Most magazines are going to be a bit too thick to place under your MacBook. We recommend downloading them on your iPad instead (but please don't put your iPad in the document pocket!).

What kind of documents would I want to carry with my MacBook?

The possibilities are endless and pertain to all kinds of industries! Print-outs, spreadsheets and reference materials are the perfect accompaniment for your next meeting. Contracts for clients to sign after your spot-on presentation. Going to meet with potential retailers? Bring your latest fashion runway sketches, tear sheets and fabric swatches to give them the full scope of your newest collection. Interior designers love it for paint and material chips to create the perfect home for your clients. Presenting a portfolio? Grab your best photos or pieces of artwork and place them safely under MacBook so that they will be crisp and perfect when you're ready to show off your talents. Stay organized on your next business trip by keeping your expense reciepts in one place or take along a piece of your child's artwork to remind you of home while you're on the road.

No matter what you're taking with you it will be kept in perfect condition in the hidden doc pocket in BookBook Vol 2.

Will the new BookBook fit my pre-2016 MacBook?

Unfortunately not. Because the newest MacBooks have a slimmer profile and BookBook is measured to fit like a glove, the newest edition will not fit any of the older model MacBooks. If you still love the look of BookBook, you can order this beautiful case for most older MacBooks here.

Where can I download the screen background images you're using?

If they aren't one of our dual-screen backgrounds or a standard Apple background, they are most likely downloaded from one of our favorite photography sites called Unsplash! You can view the collection of images that we have used over the years on our curated page. Check back as we will continue to update our collection the more images we use!

Have more questions about BookBook for MacBook?

Check out our full list of FAQ's here!